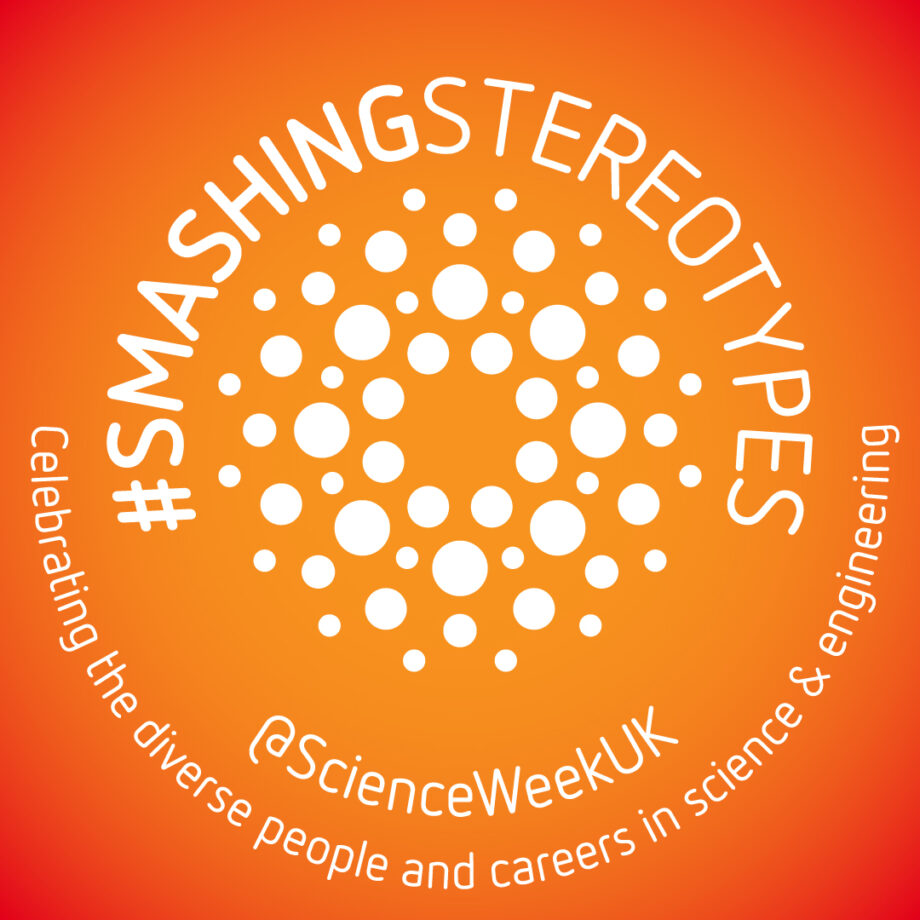 What do you imagine when you're asked what a scientist looks like? Are you picturing lab coats, goggles and conical flasks? How about the person? Are they a White man with grey hair, who resembles Albert Einstein?
If that's who you pictured – you aren't alone. But it's something that we want to change!
The science, technology, engineering and maths (STEM) sectors are much more diverse than this stereotype suggests. There are people working in labs, at universities, in innovation centres, in businesses and out on construction sites, who come from so many different backgrounds, and who have taken lots of different routes into their career. Not only that, the jobs people do and the ways that they work as a scientist are so broad – we could never list them all!
To help us celebrate this diversity, we've partnered with science-based technology company 3M, biopharmaceutical company MSD, and global technology company Thales on this year's campaign. 'Smashing Stereotypes' aims to encourage STEM employees and researchers to share stories about their day-to-day work and highlight the diversity of the STEM workforce, the extent of jobs and careers available, and that scientists are just like everyone else.
This is where you come in. We need your help to showcase the diverse and inspiring teams and individuals in STEM. Share how you or your team are #SmashingSterotypes on social media by posting a photo, video, or simply telling us. We'll highlight as many as we possibly can!
For inspiration, we've collected stories from individuals and teams that we hope will spark a change in perceptions of people and careers in STEM. You can find more about them via the links below.
Charlotte Grinyer,
Research Engineer, Thales
Championing mental health in STEM

Donna Gowland, Continuous Improvement Manager, 3M
An unconventional route into finding a dream STEM career

Pearce Jarrett, Machine learning engineer
Founder & CEO, Gwaan
Pioneering the future of fitness

Sara Berkai, Founder, Ambessa Play
Inspiring a new generation of curious minds


Harshnira Patani,
Senior Scientist in Drug Discovery, MSD
Forging your own path into a science career

Pete Barr & Eli Heath, Product designers,
Founders of Enayball

Helping wheelchair users get creative 

Jaipal Sachdev, Lean Six Sigma Black Belt, 3M
A champion advocate for the LGBT+ community within STEM

Zereh Pam, Software Engineer Degree-Apprentice, Thales
Proving that tech is not just 'boys and their toys'

Tendai Taruvinga, Plant-based food maker, 
Founder of Veafy
Engineer turned chef 

Craig Illstone, Maintenance Supervisor, 3M
From apprentice to supervisor and mentor

Jade Meer, Converting Lead Hand, 3M 
Think differently about dyslexia 


Larissa Suzuki, Computer Scientist, Google

Without women computing as we know it would not exist 

Vinita Jagannath, Senior Research Scientist of Cell Biology, MSD
Defending diseases through drug discovery

Dean Wright,
Product Engineering Specialist, 3M
Continuous learning can open new doors

Technology guardians; Sandra Chauruka, Audra Wilson, Andre Jorge & Julien Magniez, Product Engineering team, 3M
Pandemic response team plays to its strengths

Daniella Dos Santos,
Small animal and exotic pet vet
Let's talk vet diversity

Krystina Pearson-Rampeearee, Flight Systems Engineer
Encouraging more women into STEM, one badge at a time

Engineering the cars of the future; Nicky Bradley, Aluwani Nefale, Marion Randall & Anja Rohmann, Application Engineering team, 3M
Girl power drives

Sam Farmer, Owner of unisex skincare brand
There's no age limit to starting a career a science

Dr Sai Pathmanathan, Science Education Consultant
How science and creativity go hand in hand

Dynamic Development; Jade Perren, Anna Hegdahl & Zuzanna Nosal, Product Development Engineering team, 3M
Taking an iconic 3M product to the next level

HS2 Innovation Team; Hassan Butt, Heather Donald, Howard Mitchell & Antonia Miller
A diverse team 'on track' to drive innovation

Counterfeit Detection Research; Dr Paola, Ian Clarkson, Damien Latron & Dr Jonathan Wilson, Analytical Specialist team, 3M
Using 3M science to foil counterfeiters


Samantha Williams, Abrasives Production Leader
From Bunsen burners to the luxury car market

Dr Michael Pascoe, Postdoctoral Research Assistant
Backing himself in the world of pharmaceutical microbiology research


Dr Esther Odekunle, Antibody Engineer
Promoting diversity in STEM while helping medicines excel

Dr Jayshree Seth, Corporate Scientist
The inspirational journey to becoming a Chief Science Advocate

Dr John Rafelt, Scientific Affairs Manager
A travelling scientist whose job differs from day to day


Jess Gallacher, Engagement and Communications Manager
Shining a light for science's late bloomers

Dr Becca Wilson, MRC Innovation Fellow
A role model for the next generation of disabled researchers

Dr Claire Burke, Astro-ecologist
Taking the techniques from astronomy and applying them to Earth

Romy Kenyon, Sustainability Project Manager
Leading the field in sustainability


Hana Ayoob, Creative producer and artistCombining her love of art and science
New films
We're releasing short films showcasing a selection of our Smashing Stereotypes profiles and their stories – revealing why they've chosen a career in STEM, how they've followed their passions, and the stereotypes they've 'smashed' along the way…
Pearce Jarrett
Machine Learning Engineer, Founder & CEO, Gwaan
Pioneering the future of fitness
Harshnira Patani
Senior Scientist in Drug Discovery, MSD
Forging your own path into a science career
Donna Gowland
Continuous Improvement Manager, 3M
An unconventional route into finding a dream STEM career
How to get involved
We'd love to hear your stories too – do you work in science but in a non-traditional way?
Perhaps as a personal trainer, urban grower or cosmetic product developer– the list is endless, really. Scientists can wear lab coats and work with test tubes but they can also sit in front of a laptop in their pyjamas. We're a mixed bunch and we want people to see that -tell us your job title, and how you're #SmashingStereotypes every day. We want to share as many different examples of scientists and their careers as possible!
Smashing Stereotypes has landed on social media!
To bring your stories to life, we've created some images and GIFs to be shared across your social media. They read "Celebrating the diverse people and careers in science and engineering #SmashingStereotypes @ScienceWeekUK".
You can download these in a few easy clicks following this link.
You asked, we listened…our Smashing Stereotypes giveaway is back for 2022 – and this time, we've got even more badges to choose from!
We're giving away 10 badges that showcase diversity in STEM. Choose from 'This is what a scientist looks like', 'Smashing Stereotypes', 'Women in STEM' or 'STEM is for everyone' badges for you and a friend. These pins have been produced by aerospace engineer, Krystina Pearson-Rampeearee. (Aerospace engineer…cool, we know. Krystina's part of our 2021 campaign, so you can delve into her story!).
Head over to our Instagram to enter. All you've got to do is follow us, like the giveaway post and tag a friend in the comments. Share how you're #SmashingStereotypes in the comments for a bonus entry!
You can enter as many times as you like. You have until 12:00 PM GMT Wednesday 30 March to enter, where we'll be selecting the winners at random. Visit here for the full Terms and Conditions. Good luck!
UK residents only. Giveaway is in no way endorsed or sponsored by Instagram. The giveaway will run from 3 March –30 March 12:00 PM GMT. The winners will be selected at random and announced on 31 March. Under 16's must have permission from their parents or carers to receive giveaway prize).
Keep a lookout for more interactive ways to get involved in the Smashing Stereotypes campaign across the British Science Week social and digital channels in the lead up to and during the Week. And remember – tag us on social media using the official hashtag so we can see how you're #SmashingStereotypes!
More resources
Smashing Stereotypes 2022 digital toolkit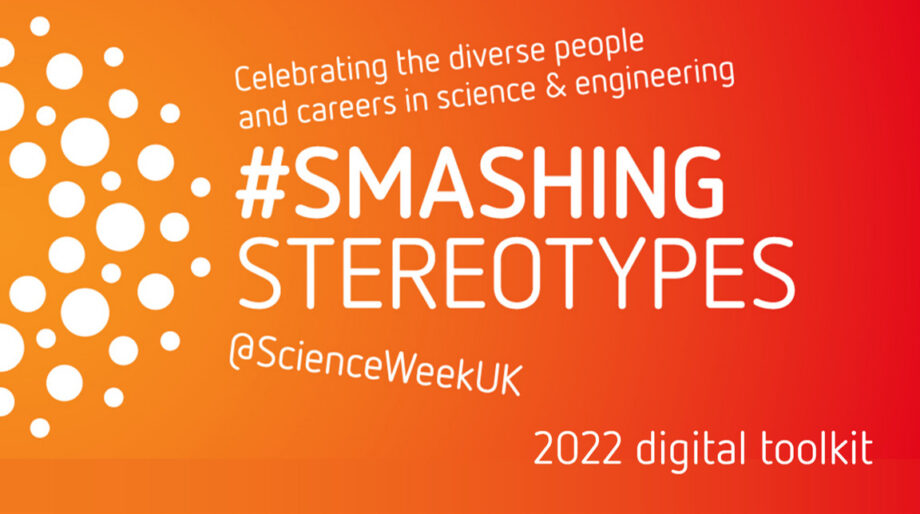 Check out this video showcasing the diverse roles within manufacturing created by 3M Industrial Placement students at the manufacturing facility at Aycliffe, County Durham!