The theme for the 2021 poster competition is Innovating for the future.
We are busy putting together the application forms and prizes and will be releasing full details on how to enter soon.
In the meantime, have a look at our activity packs, which contain lots of activities on the theme to help get your creative minds in gear. Maybe you will be inspired by innovation in technology or in health care, or maybe the innovation that is used in STEM careers?
You can also get inspired by looking at last year's competition winners here.
Everyone can get involved. Last year we had entries from almost 350 schools, organisations and individuals across the Early Years, Infant, Juniors and Seniors categories.
Check back for full competition rules soon. We look forward to seeing your 2021 entries!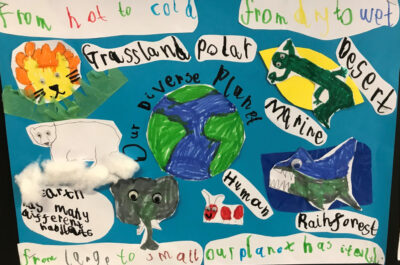 What are the rules?
All entrants must be within the age categories below:
Category             England & Wales                     Northern Ireland                    Scotland
Early years         Nursery/Reception                  Nursery/P1                             Nursery/P1
Infant                    Year 1 – Year 3                       P2 – P4                                  P2 – P4
Junior                   Year 4 – Year 6                       P5 – P7                                  P5 – P7
Senior                   Year 7 – Year 9                      Year 8 – Year 10                      S1 – S3
We welcome entries from youth groups and other organisations in addition to schools. If you are a parent, you are also welcome to enter your child directly.
Key rules:
Entrants can be teams or individuals

teams will be judged in the age category of its oldest member
any prize awarded will be split across the team.

Each school/youth group can enter a maximum of five entries. We encourage you to run the competition with larger groups, but to select the top five to enter from your school. If you send more than five entries we will only be able to include the first five in the competition. You can award further prizes within your school-level competition if you wish.
Entries must be one page of A4 or A3paper only and you will need to take a photo or scan of it to send electronically.
Work must be original and created by the student(s) – please do not use any templates.
How will entries be judged?
Posters are judged on the following criteria:
Creativity in approach – innovative angle on the content or creative interpretation of the theme
Content – clear, accurate and informative about the STEM topic
Effective communication – presented and communicated in an engaging way
Entries will be shortlisted by members of the British Science Association and a panel of judges will select a winner in each category. The two runners up in each category will be uploaded to our Facebook page and the public will decide on a fifth 'popular vote' winner.