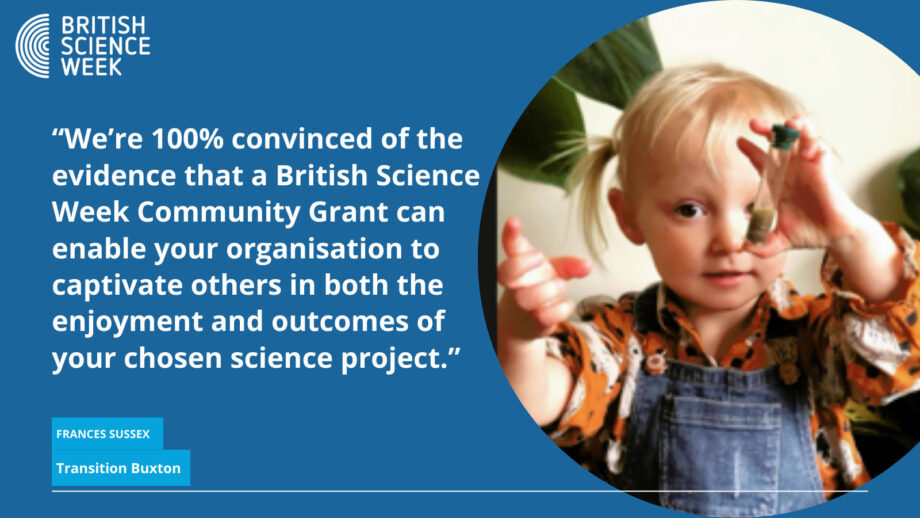 Q&A with Frances Sussex, who works in education outreach at Transition Buxton
Tell us about your community group. Who is involved, and what sort of activities do you usually run?
Our BSW Grant was for a partnership between Transition Buxton (Climate and Environment Group) and Serpentine Community Garden Society (SCGS). Transition Buxton is a Community Interest Company working on projects to increase the resilience of Buxton to the effects of climate change and promote a low carbon economy. SCGS is a charity advancing education in horticultural practice; growing people whilst growing plants. Both community groups are run by volunteers.
What event did you run with the British Science Week Grant? How did you use the funding?
We purchased pH Soil Testing Kits with our grant and distributed the kits to COVID-safe family bubbles so that they could carry out the testing in their gardens or local areas of greenery. We advertised through both groups' social media to recruit families and nurtured them through the project with a series of emails with links and attached leaflets with instructions.
Families loved joining our 'Dirt Discovery' and doing real science together. Parents shared their first experience of practical experiments with their children; grandparents engaged their grandchildren in their love of gardens and allotments. As well as the pH Soil Testing, children studied the stone, leaf and twig content of soil and noted the tiny creatures in the areas they were sampling. During Science Week, Zoe Ball celebrated our project on her Radio 2 Breakfast Show!
What was the lasting impact of your event? How has your community group continued to engage with science after British Science Week?
This project initiated a different relationship between our organisations and Buxton families we had previously not reached. We are pleased with continued communication and their interest to participate in future activities with us. Some parents and grandparents say they have been using opportunities to look for the science in everyday experiences. We now have a Buxton Soil Map that has continued to be added to by others throughout this year. We want to increase our community's understanding of how precious soil is with other planned activities for December 5th World Soil Day.
What tips or advice would you give to community groups thinking of applying for a Community Grant for British Science Week in 2022?
Use your British Science Week Grant to benefit your local community and provide a legacy for the future. Take a simple activity and make it fun and accessible for the groups you are targeting. Make good use of existing resources and see what you can create for your participants to maximise their involvement in your project and enable them to enjoy it. Prepare your communication with participants in advance and schedule regular social media updates to celebrate their involvement throughout the week. We're 100% convinced of the evidence that a British Science Week Grant can enable your organisation to captivate others in both the enjoyment and outcomes of your chosen science project.