For this year's British Science Week, we've focused on showing Generation Science – the next generation – that it's possible for them to act on their desire to change the world.
For this, we did some research into how young people and their parents are feeling about their future. We found that 9 in 10 school-age children want to take an active stance in changing the world, but nearly half of them don't feel optimistic about their ability to do so. Similarly, almost a third (30%) of parents say they don't feel confident in motivating their children to pursue their dreams.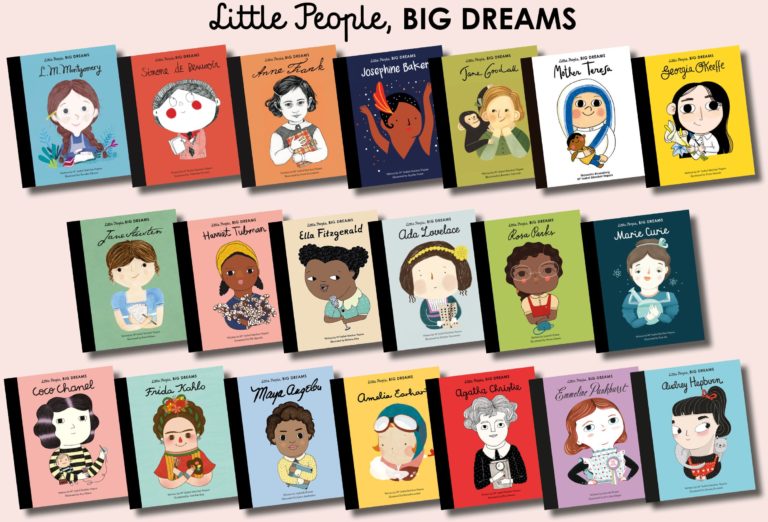 We want young people to dream BIG when it comes to science, by showing how important, interesting and accessible science is, and how it plays a huge role in everyone's day-to-day lives.
As part of this, we were lucky enough to chat with Maria Isabel Sánchez Vegara, Suzie Imber and Kate Bellingham, who are all passionate about empowering young people to act on their desires to change the world.
Maria is the creator of the inspiring Little People, BIG DREAMS series, celebrating young dreamers who each made a big impact on the world around them. All the people in this revolutionary series went on to achieve incredible things, yet at one point, they were just children like the rest of us! Suzie is an Associate Professor of Planetary Science and Kate is an Engineer, Broadcaster, Teacher and champion for STEM opportunities.
Maria, Suzie and Kate discuss big dreams, and in particular, how important it is for girls to see female representation in STEM.

Why is it so important for children to be educated about STEM and its pioneers?
Suzie Imber: Kids begin to think about their careers much earlier than we first anticipate; they start making decisions for themselves very early on about where they would – or wouldn't – fit in the world. If you want to inspire them to get into science, you must get in early. That's why books like Little People, BIG DREAMS are so important – it's about a continued stream of courage and enthusiasm throughout their lives.
Kate Bellingham: It's very easy to think of STEM as just school subjects, but what's lovely about these books is that they show that these are real people who had a passion for something that is STEM but didn't have to be labelled as such. By showing this, we can encourage children to explore what they are passionate about and that there are career opportunities from it.
Children form their views early on and often they are ruling themselves out from things: we particularly see young girls ruling themselves out from STEM. I studied Physics then Engineering, and I was very fortunate that no one suggested that these were strange things for a girl to do. It was only when I got there that I thought there aren't many other girls here.
Who were your role models growing up?
Suzie Imber: I certainly didn't have any female role models growing up, except for my family. My mum was a mathematician and she's probably the reason I am where I am today. My twin brother is a physicist also and I think having a twin brother is helpful in that regard, you can never tell your daughter she can't be a physicist, then tell your son that he can be! There are a lot of scientific people who are my role models now; role models are not just for little kids, there are a lot of people that continue to influence my life now, including females in my area of research!
I tried to read Stephen Hawking's 'A Brief History of Time' during my A-Levels – I was trying to engage in the literature and honestly, there wasn't much out there for me to read. Today, there is such a vast range of science books for the public, I wish I had twenty years ago. There weren't many people I dreamt about being when I was younger, except for Captain Scott as I wanted to be an Antarctic Explorer.
Kate Bellingham: My elder brother! We both studied physics and I remember I used to steal his maths books because he was older than me and I was fascinated about what he was learning in Maths. Family is important to me for a number of reasons: my parents came from completely different fields, but they encouraged me to have a sense that I could do or be anything.
When I was studying, I became aware of women engineers who had begun working at a time when it wasn't the norm for women to do so; it made me aware that these opportunities were available to me.
People can achieve things without role models, but for many young people the phrase 'if you can't see it you can't be it' is certainly true. It didn't stop me, but I can imagine some girls my age who were certainly put off by what their parents of schools might have said.
What piece of advice would you give to any budding 'Little Scientists'?
Kate Bellingham: Keep asking questions! My son once asked, 'Mum the letterbox is hot, why?' I could've just told him it's made of metal and the sun's shining, but I said 'that's interesting, how shall we find out? Is it because it's rectangular, or is it because it's made of metal?' Similarly, my daughter with a balloon asked, 'where's the ceiling of the sky? If I let go, where will it stop?' What a brilliant question! Keep asking questions and parents/carers, help them explore!
Maria Isabel Sanchez Vegara: My favourite story is Alan Turing's for a mix of reasons. He had an extraordinary life, coupled with the hardship of his mistreatment for being gay. I love the stories that have the perfect balance between an emotional story and a lesson.
Suzie Imber: I feel quite a connection to Mary Anning.  who, as a child, went out exploring and wanted to understand the world around them, and I think a lot of kids do and think the same. I also really like the Stephen Hawking title because, not only does it highlight his disability, which is really important, but also the idea of being able to do Science at the level he does without pen and paper is incredible.
Kate Bellingham: We're in a time where we're revealing hidden characters from the past. People did know about Mary Anning, but they didn't know as much as we do now. The fact a movie has come out is great, but it's also brilliant to go back to the beginning and share with the next generation what really should have been shared with my generation. I also love the Stephen Hawking title! I love the artwork and I love the maths – for that to be in a little kid's book and to make that feel accessible is brilliant.
How is it decided which figures will be covered by the Little People, BIG DREAMS series?
Maria Isabel Sanchez Vegara: When we started the series, it was easy as I thought about who I'd have liked to have met when I was a child. What's normal in your life when you're a child typically remains normal in later life: if you have books, series, documentaries around you as a child about these world-changers, it can give you a wider vision of what you can do. Now it's more complicated as the series has expanded – it takes almost a year to finish each book. We're also in many different countries – we don't want to miss any specific characters. We also get many letters from little readers who have their own heroes and want to see them in the series!

About Suzie ImberSuzie Imber is an Associate Professor of Planetary Science at the University of Leicester. She specialises in studying space weather. Suzie is a Co-Investigator on the X-ray spectrometer on board the joint ESA/JAXA BepiColombo spacecraft, which launched in October 2018 and will arrive at Mercury in 2025.Suzie was also the winner of the recent BBC 2 series entitled Astronauts: Do You Have What it Takes? during which twelve candidates were put through astronaut training with NASA astronaut Chris Hadfield.

About Kate Bellingham

Kate Bellingham is an Engineer, Broadcaster, Teacher and champion for STEM opportunities. Oxford University physics graduate Kate started out as a trainee audio engineer for the BBC.

Having taken part in a series of engineering lectures for schools and the BBC Schools series 'Techno', Kate was offered a prize job in broadcasting – fronting the weekly live show 'Tomorrow's World', which she did from 1990 to 1994. She is currently on our screens as a contributor on the Discovery Channel series 'Disasters Engineered'.

About Maria Isabel Sanchez Vegara

Maria Isabel Sánchez Vegara, born in Barcelona, Spain, is a writer and creative director in constant search of new concepts for children's books. Working for more than fifteen years for clients in top advertising agencies, her books combine creativity with learning, aiming to establish a new and fresh relationship between children and pop culture.