Next week sees the start of Science Week Ireland
We wanted to give a shout out to our friends there who will be celebrating their 25th Science Week (8 – 15 November 2020).  Their core theme is 'Choosing our Future',  focusing on how science can improve our lives in the future and in the present – which chimes very well with our British Science Week 2021 theme of 'Innovating for the Future'! 
There will be events and activities covering a whole range of topics such as the future of work, the future of health and wellbeing and how we will all live in a world where we have had to mitigate and adapt to the challenges facing society.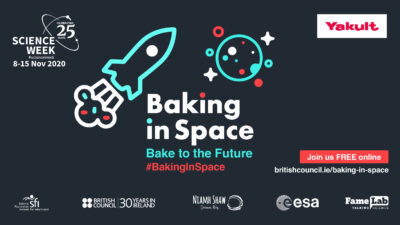 One of the events we at the British Science Association are most excited about is Baking In Space, a fun-filled family show hosted by space champion, Dr. Niamh Shaw and Great British Bake Off finalist, Andrew Smyth. They will take you on a journey from Earth to the Moon and back, with demos and baking directly to your kitchens.  
Lifting off from Earth and headed for the Moon, 'Baking In Space – Bake to the Future' will explore our planet in lockdown, how we have learned to adapt and the parallels between living in space and living during COVID-19. 
In this unprecedented time for society, where the role of science has rarely been more at the forefront of public discussion, the team at Science Week Ireland and the wider community have been busy transforming exciting activities to brand new digital, virtual, and blended formats.   'Baking In Space – Bake to the Future' is a Science Week Ireland 2020 programme funded by Science Foundation Ireland and created in partnership with British Council Ireland, Dr Niamh Shaw and Andrew Smyth.  
The show is supported by Yakult UK & Ireland, which is itself boldly going into space for experiments with astronauts on the International Space Station in collaboration with Japan Aerospace Exploration agency (JAXA). Their mission is to study the influence of Yakult's bacteria on the human body.  
What's more, this fantastic 'Bake to the Future' resource, created by Dr. Niamh Shaw with recipes from Andrew Smyth, has been commissioned and produced by The Ark, Dublin in collaboration with British Council Ireland.  
There are a variety of ways to get involved in Science Week Ireland 2020, check out https://www.sfi.ie/engagement/science-week/ or use and follow #BelieveInScience #BakingInSpace on social media. 
To book tickets for Baking In Space on Sunday 8 November, visit: https://www.eventbrite.ie/e/baking-in-space-bake-to-the-future-premiere-ukireland-tickets-124391597617?aff=erellivmlt 
Finally, don't forget there are four months to go today until British Science Week 2021! We hope that you are finding our Taster Packs useful in planning ahead and would like to remind anyone considering applying for a grant to do so by the deadline of 9 November.