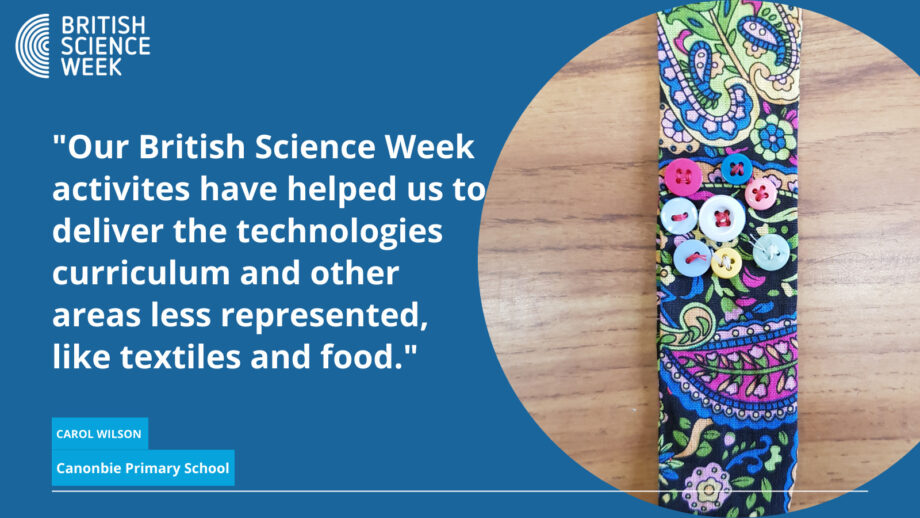 Q&A with Carol Wilson, deputy headteacher at Canonbie Primary School
Tell us about your school
Canonbie Primary School is a small multi-composite primary in a rural location. We have a small nursery and are currently working hard to move this into our school building. We are working our way through our STEM Nation Award and are beginning to track our skills from nursery to P7. We deliver lessons planned with the children through our interdisciplinary learning timetable, and are keen to reinvigorate skills linked to our local context and history.
What event did you run with the British Science Week Grant? How did you use the funding?
This year, children have enjoyed an event with dual aspects during British Science Week. We have worked with a local chef and hotel business owner to develop cooking skills linked to My World of Work and Developing the Young Workforce. We have also worked with a local textiles business to promote the use of our sewing machines within technologies. Our Young STEM leaders have gained skills to share further within our school. Our link with The Douglas Hotel will continue through the Discovery Award with them moving from bread-making to cooking with sustainable fish. Our partnership with Langholm Initiative and Rose's Wardrobe will also be extended. These projects have been COVID-19 friendly, as pre-recorded video content for children was provided, but both have agreed to work with us further in the next school term. This helps raise STEM capital linked to our local Economic Growth sectors and take curricular areas into real-life contexts.
What was the lasting impact of your event? How has your school continued to engage with science after British Science Week?
Our British Science Week activities have helped us to deliver the technologies curriculum and areas less represented, like textiles and food. Children have highlighted through their evaluations of British Science Week that many are unsure about STEM careers, so we need to do more similar work to help them become more aware of local jobs within science. The parents who are our trained STEM Ambassadors could help with this as jobs like local forestry could be demonstrated with a site visit to learn about the science behind them.
What tips or advice would you give to school thinking of applying for a Kick Start Grant for British Science Week in 2022?
Please do it, as it can take learning wider and involving your community makes learning more relevant. It is great to get local experts involved in your school, and during lockdown teachers have had experts on hand through digital provisions, so think creatively about how their assistance and skills can continue to be used.