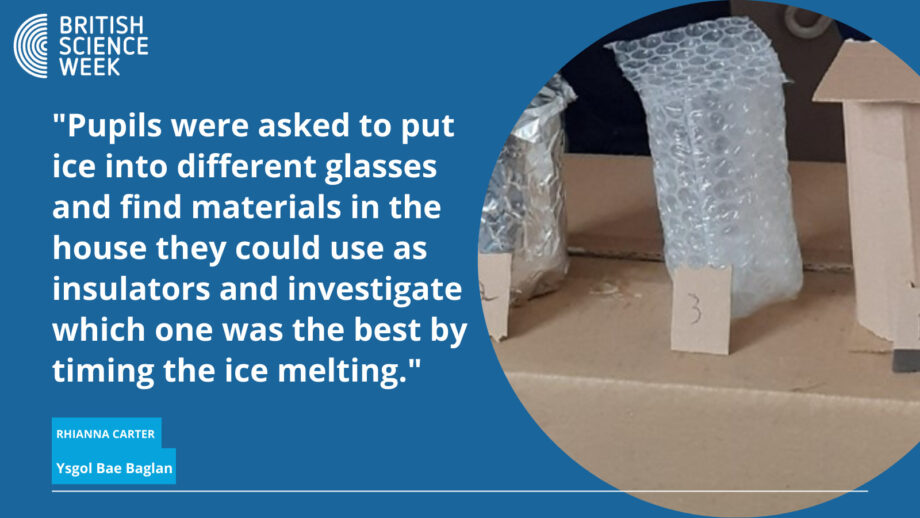 Q&A with Rhianna Carter, a teacher at Ysgol Bae Baglan
Tell us about your school
Ysol Bae Baglan is a school in Port Talbot, Wales which teaches children aged 3-16. There are 1,400 pupils, around 30% of whom are eligible for free school meals, and around 28% have special educational needs.
What event did you run with the British Science Week grant? How did you use the funding?
For British Science Week, we used the theme of 'Innovating for the future', and asked pupils to research and design a new insulative jacket for water tanks that could reduce energy consumption and therefore climate change. We had to adapt our original idea to ensure they could complete this activity at home due to COVID-19 lockdown. Pupils were asked to put ice into different glasses and find materials in the house they could use as insulators and investigate which one was the best by timing the ice melting.
We then awarded each year group winner a prize and an overall whole school winner. We also asked pupils to enter the poster competition with their design.
What was the lasting impact of your British Science Week events?
It has been a sigh of relief to change the way we teach and let the pupils complete an investigation at home. We tried to ensure this was a practical that most pupils would have access too at home and have also sent equipment home where possible. Reading the feedback forms the results have all been positive and we are happy to see pupils still engaging from home despite not being in school.
What tips or advice would you give to schools thinking of applying for a Kick Start Grant for British Science Week in 2022?
Go for it!
Be organised – book everything in advance with the lab technician via one person who shares the schedule.
Make a contingency plan – remote learning certainly taught us this!