A diverse team of 3M product engineers has been pulled together to ramp up the supply of disposable respirators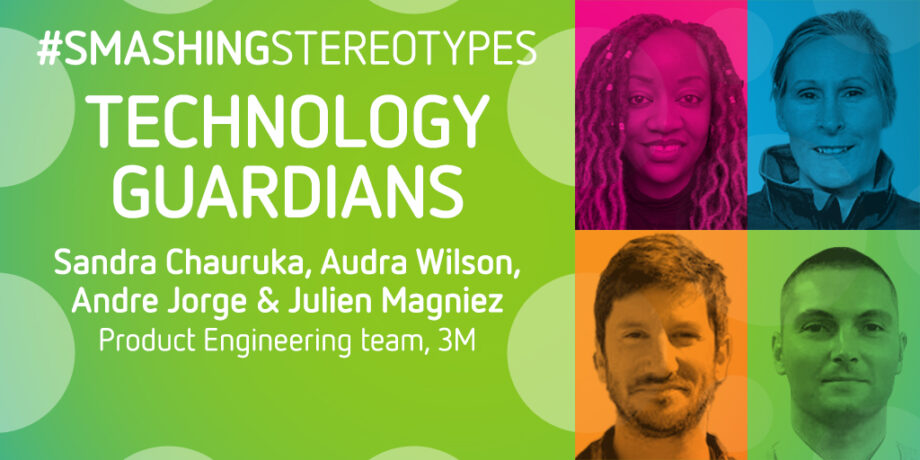 Sandra Chauruka, Audra Wilson, Andre Jorge and Julien Magniez
Product Engineering team, 3M*
Since the start of the pandemic, demand has risen for respirators to protect front-line health care workers and those working in key industries.
One UK-based team was responsible for specifying new raw materials for 3M™ Aura™ Respirators to keep up with the surge in demand without compromising on quality; they also supported the launch of a new production line in Germany.
Senior product engineering specialist, Audra Wilson, grew up in Warwickshire and is now based at the Aycliffe plant in the UK, whilst senior product engineer, Sandra Chauruka, is originally from Zimbabwe and is also based at Aycliffe.
They are working closely with product engineering specialist, Andre Jorge, a Brazilian who moved to Germany to oversee the new production line.
The multicultural team is managed by UK-based product engineering leader, Julien Magniez, who is originally from Bordeaux in France.
Says Julien: "Teams are like jigsaw puzzles – you need all the pieces to complete the full picture. I believe in allowing people to play to their strengths. For example, if I was managing a very good right-footed football player, I wouldn't ask him to shoot with his left foot."
The team is responsible for approving any changes to the product and works together to find innovative solutions and strategies to ensure that these have no impact on quality, performance and fit.
Audra has worked with 3M respirators for more than 20 years and joined the company after taking a degree in chemistry and then studying polymer engineering for her advanced degree.
She says: "We are the guardians of the technology, which involves working closely with raw material suppliers as well as the manufacturing team.
"Having the chance to work with a younger colleague has been energising. Sandra looks at things from a different perspective and we are able to bounce ideas off each other."
Sandra followed her dream of becoming a chemical engineer when she moved from   Zimbabwe to the UK to study at the age of 17.
She says: "I knew what I wanted to do from an early age. I first applied to 3M as a graduate, but only made it through the initial interviews. I didn't give up and applied again after completing my PhD."
"Things have a habit of working out for the best and in this time, I grew not only in my science skills but as a person."
Today Sandra works for 3M's Personal Safety Division on new product innovations as well as maintaining the high quality of existing products.
She says: "I'm lucky to work with an experienced team and have learned such a lot."
Andre has been a product engineer for 10 years. He says: "I'm enjoying working with the team in the UK and pooling our knowledge. We are all working towards the same goal and have our own part to play.
"During my time in Germany, my 3M colleagues have been a great support, especially when I'm missing my family back in Brazil.
"Supporting 3M's pandemic response efforts has been very rewarding and I'm proud of what our team has achieved, despite all the technical challenges we have faced."
—
Click here to go back to view more scientists who are Smashing Stereotypes.
*The information featured in this profile was last updated in March 2021.
The Smashing Stereotypes campaign is supported by 3M.