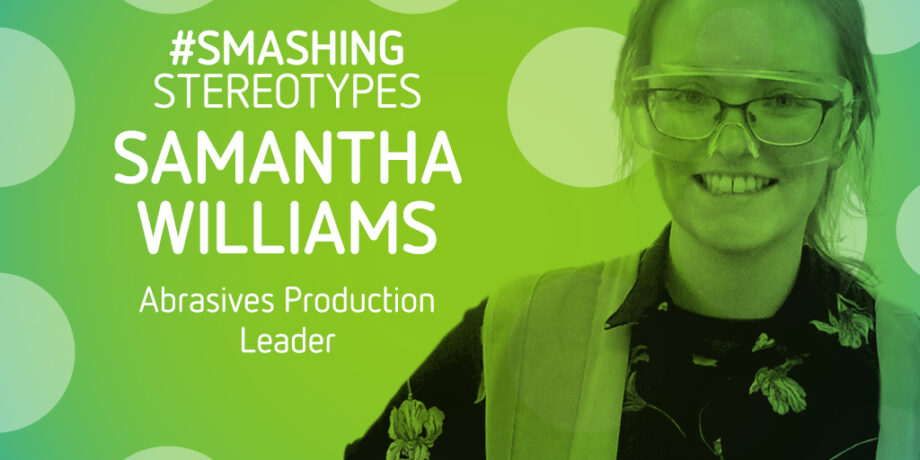 Samantha Williams
Abrasives Production Leader, 3M
Samantha joined 3M's engineering graduate scheme in 2013 after gaining a master's degree in Mechanical Engineering at Edinburgh University. She worked as a manufacturing technology engineer in 3M's Personal Safety and Abrasive Systems Divisions for five years before moving to a managerial role. She currently supervises a team of 20 people involved in the production of 3M's premium brand sandpaper supplied to the luxury car market.*
When I was in secondary school, I remember we were given a task to describe how we saw ourselves in ten years' time. Most of my classmates wanted to become a dancer or a footballer, while I drew a picture of myself with a Bunsen burner. I obviously knew then that a role in the sciences would be for me.
Looking back at the picture, I guess that was a stereotypical view of what a scientist does. I think it's a pretty common misconception that many students have, even today. My experience in the world of work has shown me that it's totally misplaced.
STEM subjects offer such a variety of roles and the landscape is forever changing with advancing technology. Who knows what types of science-based jobs will be available in ten years? This makes choosing a career path challenging, but also incredibly exciting for young people.
I had a dilemma at school, though. While I knew I wanted to pursue science, I also enjoyed art and loved being creative. Often students think you should take one or the other. My biggest piece of advice for young people is to keep your options open. When you combine science with creativity, you have an edge and an insight with the potential to find creative solutions.
My career at 3M has allowed me to progress from a technical role into managing a team of production operators at the site where we manufacture sandpaper. Most people wouldn't normally associate managing people with a scientific role, but as a leader I need to be able to absorb complex information in a short space of time and make performance decisions based on data, and my science background comes in very handy.
It's a far cry from the Bunsen burner I drew when I was younger, but I wouldn't have it any other way!
—
Click here to read about more scientists who are Smashing Stereotypes!
*The information featured in this profile was last updated in March 2020.
The Smashing Stereotypes campaign is supported by 3M