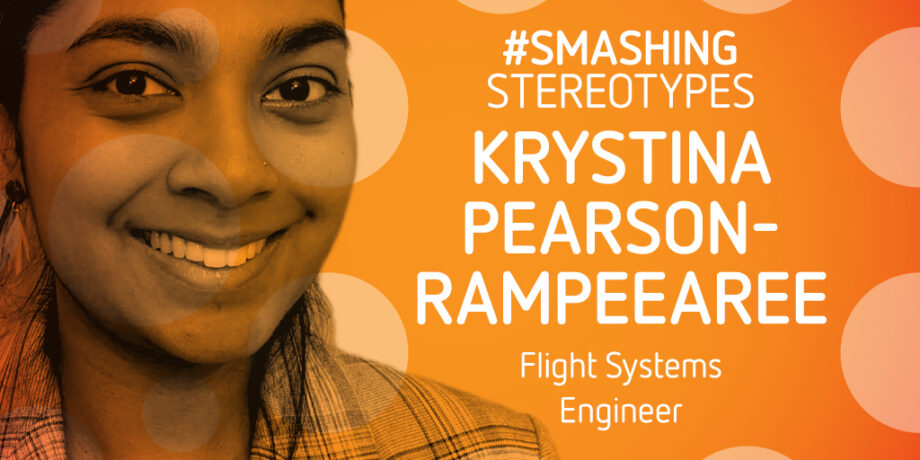 Krystina Pearson-Rampeearee
Flight Systems Engineer and creator of AviateHer
Krystina is a Chartered Engineer and STEM Ambassador who works as a Senior Flight Systems Engineer at BAE Systems. She studied Aerospace Systems Engineering at university, after being inspired by an air show when she was in school, becoming the first engineer in her family.*
During the first lockdown, Krystina set up her own business, AviateHer, selling accessories to promote diversity in engineering. She has since expanded her range of products to include various careers in STEM – part of the proceeds from each accessory goes towards charities working towards improving diversity in STEM.
I've always loved solving problems. That's what led to my enjoyment of maths and physics at school. I'd initially planned on pursuing Mechanical Engineering until I went to see an air show with my family. As soon as I saw the zooming jets, I knew I wanted to work in Aerospace! I went on to graduate with a Master's in Aerospace Systems Engineering from the University of the West of England.
Since then, I've been working at BAE Systems as a Flight Systems Engineer for almost seven years. I get to investigate different technologies that could, one day, be used on a next-generation fast jet.
A normal day involves a lot of research, learning about all the different technology out there and collaborating with a wider team of Design Engineers, Structural Engineers and Aerodynamicists; we're a mixed bunch. The most exciting part is working with entirely new tech – it's a once in a lifetime opportunity!
For those working in engineering, there's a big misconception around what we do and where we work. There's an assumption that engineering is a messy job, and that we all wear overalls and only work out in the field- this isn't true! Engineers are everywhere, in all sectors, developing creative solutions to problems and turning ideas into reality.
Thinking back to when I was studying and early on in my career, there was a lack of visible, female engineers. So, I'm passionate about encouraging and inspiring more girls to consider STEM careers and push past those gender stereotypes!
If there would be one stereotype I could 'smash' in STEM, it would be the idea of what a scientist looks like. Since starting my online shop, AviateHer, I have received many messages from people who have been told they "don't look like a scientist".
Diversity is needed in STEM, now more than ever, as misleading stereotypes can be off-putting for aspiring scientists. That's why I started my small business – to highlight diversity in STEM and help to 'smash' these stereotypes.
If you'd like to get your hands on some AviateHer badges, head over to the giveaway on our Instagram and tell us how you're #SmashingStereotypes. You could win one for you and a friend!
—
Click here to go back to view more scientists who are Smashing Stereotypes.
*The information featured in this profile was last updated in March 2021.
The Smashing Stereotypes campaign is supported by 3M.