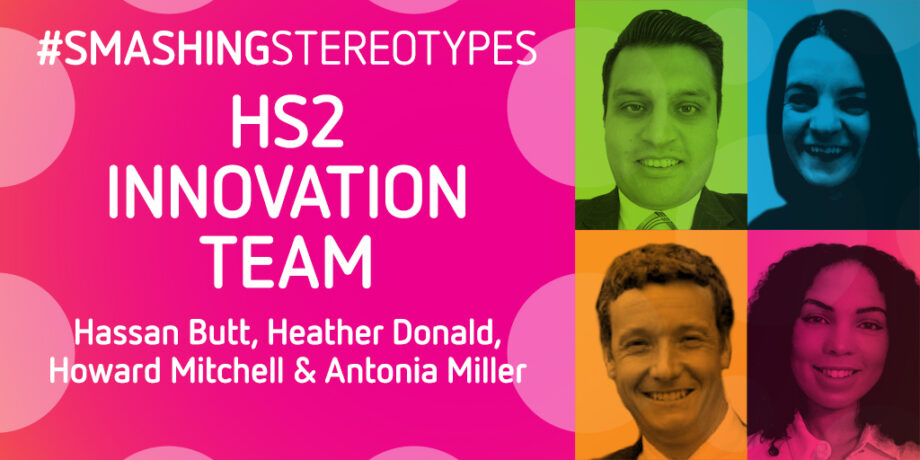 Hassan Butt, Heather Donald, Howard Mitchell & Antonia Miller
HS2 Innovation Team*


Driving new ideas, technologies and techniques are what this team is all about. The HS2 Innovation team manages a portfolio of high-value projects, with the aim of leading a lasting innovation legacy for the UK – quite fitting considering our 'Innovating for the future' British Science Week 2021 theme!
 The HS2 Innovation Team works closely with various departments internally including the Environmental, Inclusive Design and Engineering teams, as well as their supply chains, to help design and build Europe's biggest high speed rail programme.
 With construction of the first phase of High Speed Two between the West Midlands and London is well underway, members from the Innovation team, led by Howard Mitchell, discuss the role of innovation in building the new high-speed rail network: "Innovation is just a really exciting place to be. The topics are so varied, but the underlying theme is the same: let's make things better and create something new!"
Hassan Azhar Butt joined HS2 as a Graduate Innovation Analyst in September 2020. He sees innovation as the only way in which businesses can make progress. The technological advancements in this era is disrupting all industries and for the companies to stay relevant, innovation holds the key."
Antonia Miller also joined HS2 as a Graduate Innovation Analyst in September 2020. She explains that her typical day involves. "I work on different projects with a range of stakeholders including the supply chain, specialist teams and the companies to bring in their innovative solutions ranging from lowering CO2 in concrete by 42% to developing hearing protection.
Innovation manager Heather Donald believes that for innovation to be successful diversity is incredibly important. "We are often tackling challenges that require a new way of thinking, so a diverse team is critical to unlocking new ideas and fresh approaches."
Head of Innovation, Howard Mitchell adds: "Diversity drives creativity. From my perspective, diversity isn't important, it's essential. Without diversity, you develop ideas and innovation for an extremely limited amount of people.
"When working with people just like you, it's easy to come up with something you all agree is outstanding and 'the perfect solution' – you all pat yourselves on the back and implement it. However, when placed in the real world, any flaws may become evident. For example, this may not be accessible, or it hasn't considered a customer need like working with gloves on a construction environment."
For Howard, teamwork is the best part of his job. "Watching how we pull together to become more than the sum of our parts is amazing. My favourite quote is that of  the American cultural anthropologist Margaret Mead, who said: – 'Never doubt that a small group of thoughtful, committed citizens can change the world; indeed, it's the only thing that ever has.' When we get behind an exciting project, something we have worked on together from a blank piece of paper and built it into something that others recognise as great, that is the most exciting thing for me".
A diverse team is the secret ingredient to innovation, according to Hassan. "There's been many instances where we had a problem and we were able to come up with a unique solution because the backgrounds and skillsets of the individuals were so different".
Perhaps the biggest misconception linked to innovation is that it's reserved for those with an innate capability to follow a scientific path. We are all innovators, says Hassan. "Since innovation is about creating something new and unknown, the risk of failure deters many. But let me share one established fact: failure is an essential component of innovation."
 If there is one issue in STEM the team could smash it would be the lack of female representation, says Antonia. "It's so great to see more STEM diversity, but more female representation would encourage more women and girls to go into these fields. I think seeing role models and people you can relate to in STEM would encourage more women and girls to pursue these careers.
Antonia also believes that there is a misconception about what subjects you need to do well in. "STEM covers such a huge range of areas and potential careers including information analysts, environmental work and design  – you do not need to be best in maths or physics to excel," she says.
Howard adds "I know great innovators who have failed pretty much every single STEM subject at school but are outstanding engineers. They have a situational capability and way of thinking that has not been trained in a specific way. This makes them brilliant at developing solutions that are missed by traditional STEM backgrounds. STEM is not about grades!"
—
Click here to go back to view more scientists who are Smashing Stereotypes.
*The information featured in this profile was last updated in March 2021.
The Smashing Stereotypes campaign is supported by 3M.