Four female technical experts from 3M's global Automotive business are challenging stereotypes by thriving in this male-dominated industry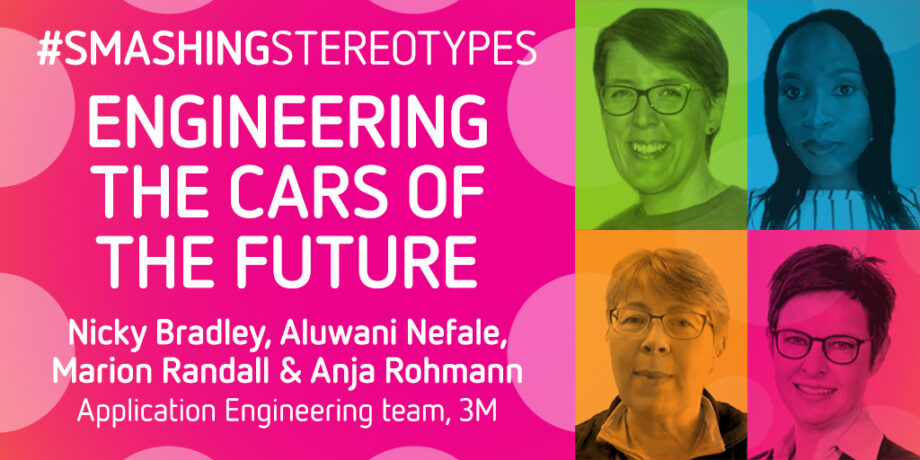 Nicky Bradley, Aluwani Nefale, Marion Randall and Anja Rohmann
Application Engineering team, 3M*
With major developments such as self-driving and electric cars moving at a fast pace, the Automotive industry is reinventing itself.
Application engineering manager Nicky Bradley, technical project manager Marion Randall and application engineering specialists Anja Rohmann and Aluwani Nefale are one frontline team helping 3M's Automotive customers innovate for the future.
All four work closely with car manufacturers and component suppliers to deliver cutting-edge solutions, such as addressing potential safety issues with developing lithium-ion car batteries for electric vehicles and using coloured 3M engineered film to wrap cars instead of painting them to improve their environmental footprint.
Nicky and Marion are based in the UK, while Anja lives in Germany and Aluwani is the only 3M technical specialist for the Automotive market in South Africa.
Women currently make up just 27 per cent of the STEM workforce and this team would love to see more females working in the Automotive industry.
Nicky, who joined 3M a year after graduating with an advanced degree in chemistry adds: "The last time I recruited for a position in our global Automotive team I received no applications from women, so we still have work to do."
Nicky manages a team of engineers across Europe, the Middle East and Africa.
She says: "Working in hubs helps us to build knowledge and find solutions faster. A lot of our work is driven by industry trends, such as making vehicles lighter which reduces fuel use and CO2 emissions."
Anja joined 3M in 1992 as a lab technician for the Traffic Safety Division.
She says: "I have always been fascinated by the composition of materials and working in the 3M lab inspired me to dig deeper into the science, so I studied chemical engineering at evening school.
"Now I work with customers on exciting new projects, such as creating easy-to-clean surfaces for vehicle interiors that will help stop the spread of viruses."
Aluwani, who lives in Pretoria, was originally interested in studying medicine or general engineering.
She says: "My mum steered me down the mechanical engineering route as I have always been curious about how things work. Growing up with two brothers also sparked my interest in things like toy cars and remote controls."
Today Aluwani works with Automotive customers helping them find solutions from a wide range of 3M technologies, such as lightweight acoustic materials that dampen down engine sounds.
She says: "There is a strong focus on sustainability within Automotive, so it's a great industry for young people to work in as they get the chance to make a difference."
Marion has a PhD in engineering, making her a doctor in science, and loves to work on new-to-the-world technologies.
For her latest project, she is working with a global team developing a new material for lithium-ion car batteries.
She says: "Lithium-ion batteries are really challenging to work with because they contain the chemical constituents that allow for the generation of flames, without needing oxygen from the atmosphere. Our work involves testing materials, under controlled conditions of course, to monitor the point where they explode or catch fire."
Marion adds "There is no doubt it can be tough working in a male-dominated industry, but the landscape is changing as more young women discover the magic of science and technology."
Marion hopes that more women will join her on the front line.
—
Click here to go back to view more scientists who are Smashing Stereotypes.
*The information featured in this profile was last updated in March 2021.
The Smashing Stereotypes campaign is supported by 3M.