A team of three young, female engineers were behind the successful manufacturing scale-up of the second-generation of a much-loved 3M product.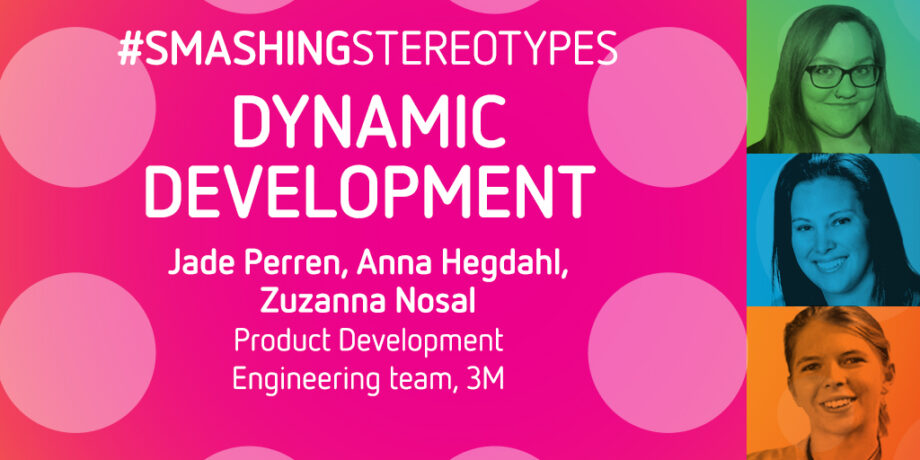 Jade Perren, Anna Hegdahl and Zuzanna Nosal
Product Development Engineering team, 3M
International collaboration was the key to an award-winning project to launch the second-generation of 3M's Paint Preparation System (3M™ PPS™) used globally by collision repair workshops.
Senior product engineers Jade Perren, based at 3M's plant in Atherstone, Warwickshire; Anna Hegdahl, who works at the company's headquarters in Minnesota, USA; and Zuzanna Nosal, who is based in Wroclaw, Poland, worked closely together, overcoming a number of technical challenges.
Jade studied mechanical engineering at Nottingham University and joined 3M in 2014 as a graduate manufacturing engineer: "At the start of the scale up, Anna and I travelled to 3M's manufacturing super hub in Poland. We lived and worked there for six months to take the product from a prototype to full scale production.
"For me, it was a big step up in responsibility. There was also the pressure of relaunching such an iconic 3M product developed by corporate scientist, Steve Joseph, who also started his career at the Atherstone plant.
"Steve now works in the St Paul lab, where Anna is based, so we were fortunate to be able to consult with the inventor of the technology during the project."
Anna joined 3M six years ago and worked on the programme from the concept stage. She says: "There was a high expectation placed on us as the product was being scaled up for a global launch. Working closely with two talented teammates helped with the pressure and it was a great learning experience.
"Taking a prototype to manufacturing scale-up also took a tremendous amount of effort by a huge global, cross functional team of talented people.
"Teamwork is very important to me and I love to see others thrive. Both Jade and Zuzanna are great leaders and for me, the experience was like meeting two new best friends."
For Jade and Anna, working on this project meant travelling abroad for the first time and spending time away from their families.
Having a team member based in Poland helped as Zuzanna was able to show them around the city and made them feel at home.
Jade has Ehlers-Danlos Syndrome, a connective tissue disorder caused by defective collagen. This means that some days she can struggle to stand for very long or walk far without a walking stick.
Says Jade: "Anna and Zuzanna were very supportive and this was a great help. The fact that the plant in Poland is very modern also made it easy to move around and this helped my energy levels."
Zuzanna's first introduction to 3M was entering a competition to build a structure held together with 3M™ VHB™ Tape. Her prize was an internship and she loved it so much that she joined the company soon after.
She says: "I was inspired by Jade and Anna and a key learning for me was not being afraid to try out new things. It was also a wonderful opportunity to improve my English.
"The scaling up process was really intense, but it was worth it to get a fantastic end product that customers around the globe are so happy with."
—
Click here to go back to view more scientists who are Smashing Stereotypes.
The Smashing Stereotypes campaign is supported by 3M.