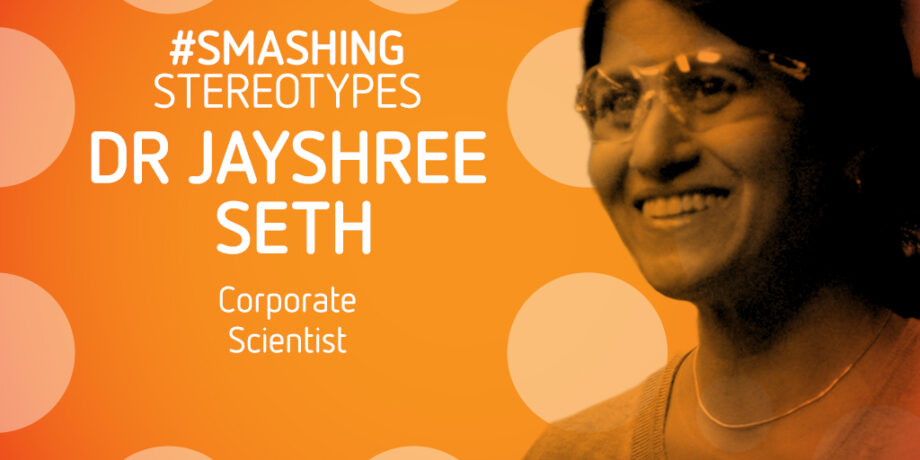 Dr Jayshree Seth
Corporate Scientist, 3M
Dr Jayshree Seth is a Corporate Scientist at 3M and leads Applied Technology Development for the Industrial Adhesives and Tapes Division. She has a PhD in Chemical Engineering from Clarkson University, New York and holds 67 patents for a variety of innovations. Jayshree was appointed 3M's first ever Chief Science Advocate in 2018 and is using her scientific knowledge, technical expertise and professional experience to communicate the importance and benefits of science in everyday life.*
I didn't necessarily see myself as a 'scientist type' when I was growing up and I didn't think I was smart enough to pursue a science career when I didn't get into a top-flight engineering college. However, my parents encouraged me to study the sciences, and now I'm really glad they did.
It was actually at university, when I started doing experimental work on hard coatings to protect surfaces, that I realised for the first time how excited I was to plan my experiments, conduct them and write up the results to communicate in an understandable way. This was me! I was indeed a scientist.
I finished my PhD and then accepted a position at 3M in a technology area I knew very little about at the start, but using the basic principles of science and connecting with people helped me to progress to where I am today.
Recently I was honoured to be selected as 3M's global Chief Science Advocate, which has allowed me to travel the world and, hopefully, inspire young people from all backgrounds to embrace the opportunities that a career in science can bring.
There are many stereotypes in STEM, of course. We are very familiar with the image of an eccentric male scientist working in a lonely laboratory. However, there is much less discussion about the diversity of science and scientific roles.
The idea that women may not be confident or resilient enough to work in the science and engineering sectors is one outdated stereotype I'm personally trying to smash. As the first female engineer to reach the highest technical designation in my organisation, I like to think I am helping to show there is a massive space and need for women in STEM.
What's more, the world is facing a whole host of global challenges and in the coming decades we need diverse, creative, scientific thinking to enable us to improve lives and build a more sustainable future for all.
—
Click here to read about more scientists who are Smashing Stereotypes!
*The information featured in this profile was last updated in March 2020.
The Smashing Stereotypes campaign is supported by 3M