Head to the farm for British Science Week 2022!
To celebrate British Science Week, NFU Education are hosting a range of exciting curriculum-linked lessons – live from farms across England and Wales!
There are three lessons across the Week for Key Stages 1 and 2, so the content is perfect for all primary school children aged 5-11. The lessons are 30-45 minutes, and are completely free to join (although registering for an account in advance is required)!
The first lesson, 'Life cycles live' is at 11am on Monday 14 March.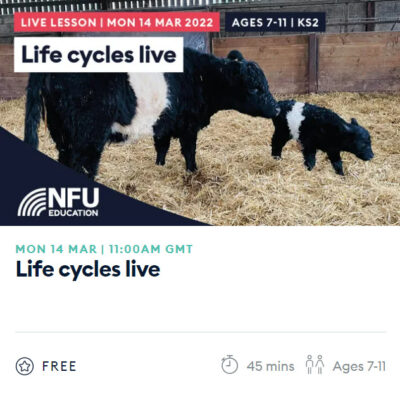 Children will learn about the life cycles of animals, by e-meeting some real-life Belted Galloway calves (and maybe even seeing some lambs being born)!
They will hear from Karl Franklin, an NFU Young Ambassador who will demonstrate how an ultrasound scanner can be used on a pregnant ewe to give a sneak peak at a lamb before its born.
Next, farmer Paula Matthews will introduce her herd of Belted Galloway cows, and tell the children all about where her cows came from.
During the last part of the lesson, Karl and Paula will answer questions children have submitted.
The second lesson, 'Fantastic minibeasts and where to find them' is at 11am on Tuesday 15 March.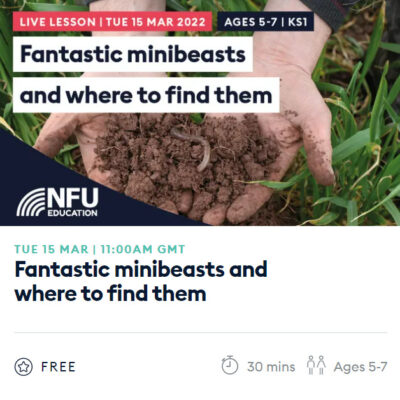 Children will learn all about minibeasts, where they live, and their special role in British farming.
They will learn about four types of insects who all contribute to the workings of farms. Insect expert Sally-Anne Spence will introduce worms, dung beetles, pollinators and predatory insects!
There will be a practical activity where children learn how to discover minibeasts in their areas, and examine them with a microscope.
Sally-Anne will then answer questions children have submitted.
The third lesson, 'Climate Change Superheroes' is at 11am on Thursday 17 March.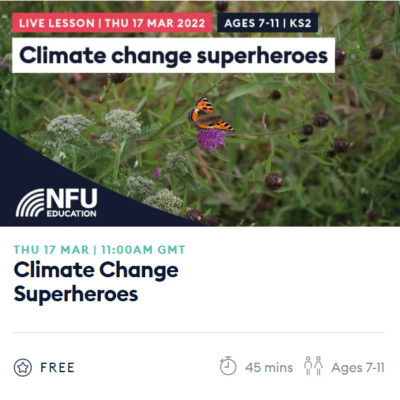 Children will learn about the relationship between farming and climate change.
Josh Payne, the Chief Education Manager and NFU, will describe the carbon cycle and how climate change works. Jess Langton, a dairy farmer, will then explain her research into methane reduction and even take the children on a tour of her farm!
There will be a poll about climate change, and an interactive discussion about food waste and steps we can all take to reduce it.
The Josh and Jess will then answer questions children have submitted.
For all the information you need about how to register for a free Encouter Edu account to book your class onto the live lessons and submit questions, find the Live Lessons FAQs here.