We're excited to say that British Science Week 2022 is going ahead at full steam, and the run up officially begins now as we launch our activity packs!
You have hopefully been enjoying our taster packs, which were published in November 2021, which included loads of information about how to run activities for the Week, and two activities on this year's theme of 'Growth'.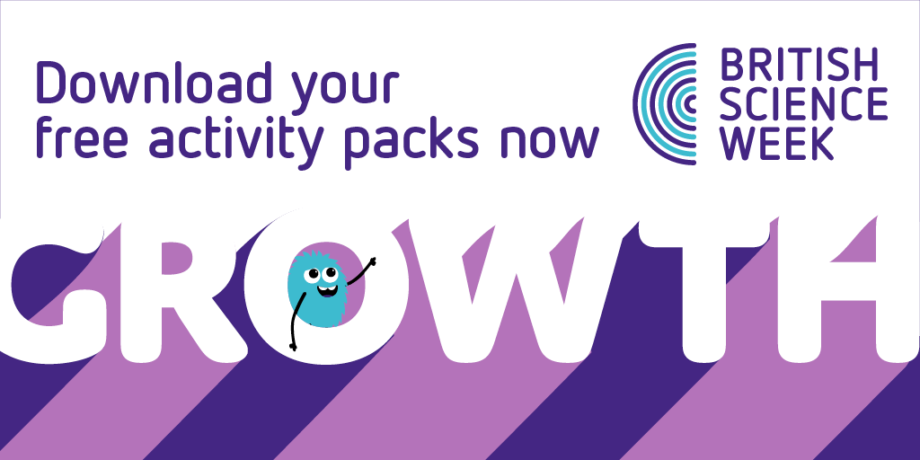 The full activity packs, available to download now, include all of the information and activities from the taster packs, plus many more activities focused on 'Growth'. This theme has allowed for a wide range of fantastic activities, from experiments for all ages looking at the growth of plants and animals, to hands-on projects growing 'buildings' (get your spaghetti and marshmallows at the ready!) and research-based activities on ideas like economic growth, and the need for growth of eco-friendly behaviour.
The packs cover all age groups from Early Years (under 5s) to Secondary (14+) and this year, for the very first time, we have a Community activity pack! This pack includes British Science Week information, advice and tips, and of course activities, tailor-made to be used in community group settings, with ideas in each activity for how adults can get involved. Activities include 'Engineer an ecosystem', in which participants make their own terrarium and discuss it with the group, and 'Wake me up before you grow-grow', to discover if plants have their own taste in music!
Click here for link to all the activity packs.
All the packs include activities which can be done at home, as well as classroom or community group settings, including our ever-popular poster competition! The competition is open to children and young people of all ages, and prizes are awarded to four different age categories, so all entrants have a chance of winning. The theme of the poster competition is also 'Growth', and if you're looking for ideas, we have labelled activities we think could provide inspiration with a paintbrush symbol.
If you use the packs, we'd love to hear about it! Get in touch via Twitter and Facebook, and don't forget to use the hashtag #BSW22.
The packs were created with the support of our brilliant partners; find out more about them here: Our partners.