It's the moment you've been waiting for… British Science Week 2024 Grants are open for applications!
Schools and community groups can apply for Kick Start Grants and Community Grants respectively to fund, organise and run their own events and activities during British Science Week, which is taking place on 8-17 March 2024. This year marks the 30th anniversary of the campaign – an opportunity to make your celebrations extra special!
Supported by UK Research and Innovation, these grants cater for audiences who, for wide variety of reason, do not usually get the chance engage and get hands-on with science. The funding allows them to participate and enjoy this annual celebration of all things science, technology, engineering and maths (STEM)!
Applications for both Kick Start Grants and Community Grants close at 11.59 pm on Monday 6 November 2023.
If you're keen to get your students and the wider school community involved in British Science Week 2024, but don't have spare funds to hand, our Kick Start Grants of between £150 and £700 could be for you.
We're particularly excited to receive applications for projects that are cross-curricular, that challenge science stereotypes, and engage students who are otherwise underrepresented in STEM. For inspiration, take a look at our Kick Start Grants case studies to see how schools made the most of the funding during the latest British Science Week. Feel free to use the theme for British Science Week 2024 'Time' as inspiration for your events, although there is no obligation to!
You could also use the 30th anniversary as a jumping off point – what else happened in 1994, how has science changed since?
Kick Start Grants support schools in challenging circumstances to devise and run events and activities as part of British Science Week, and show their pupils and students how wide-ranging (STEM) is, there's much more to science than white coats and labs!
To be eligible for a grant, schools must meet at least one of the following criteria:
over 30% of pupils eligible for pupil premium, early years pupil premium or equivalent.
over 30% of pupils who are from minority ethnic backgrounds.
small school based in a remote and rural location.
All eligible state-funded schools are welcome to apply for any of the Kick Start Grants. Consult 2024 grants application guidelines for full details on eligibility and how to apply.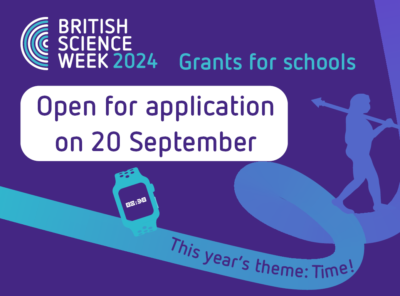 When you apply for a Kick Start Grant, you'll  get the opportunity to join the British Science Association's Engage Teacher Network, comprising a community of 1,500+ teachers who are committed to delivering science engagement activities for all students and who understand the barriers and potential solutions to doing so in a school in challenging circumstances.
These grants are part of our Engage offer, which was launched on 18 September 2023. The Engage community is a space for teachers to share ideas, access free resources and apply for grants to help bring science to life for all children and young people.
Find out more about Engage: crestawards.org/engage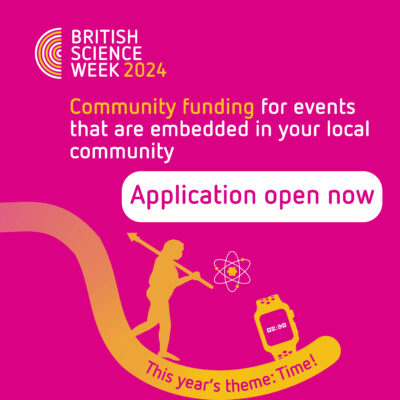 Our Community Grants are designed to help community groups engage their audiences with science in ways that are tailor-made to fit them. We're offering grants of £500 and £1000 to support these groups to run their own events and activities for British Science Week 2024, growing the number of people who enjoy and take part in science.
Science is so fantastically broad, that knowing where to start with planning an event can be difficult, but a little bit of inspiration can go a long way. Read our Community Grants case studies to discover how other community groups used the funding to support their own activities and events during British Science Week 2021. The theme this year is 'Time', why not use that as a jumping off point?
To be eligible, applicants must represent a community-based group, club or organisation that works directly with audiences who are traditionally underrepresented and currently not engaged in science activity. Read Community Grants 2024 guidelines for all the information you need regarding eligibility and how to apply.
Applications for both Kick Start Grants and Community Grants close at 11.59pm on Monday 6 November 2023.
Applications will need to be submitted via our online forms. Please visit the Grants page to apply.
If you are planning to host an event during British Science Week, it's important to notify us by registering it on the Science Live website. Additionally, stay connected with the latest developments and the build-up to 2024 by following British Science Week on Twitter and Facebook. We look forward to your participation!