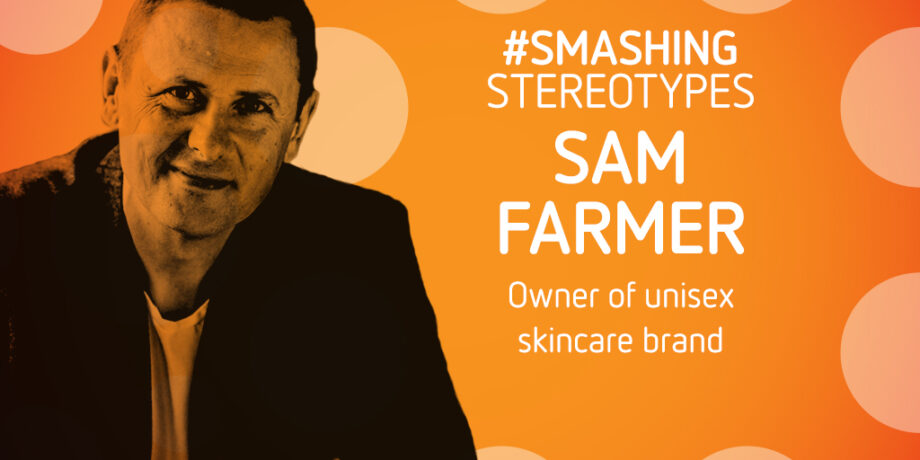 Sam Farmer
Owner of unisex skincare brand
Sam Farmer launched his Unisex Cosmetics Range 'SAM FARMER' in 2013 with a mission in mind. He is passionate about challenging the gender stereotyping and segregation of young adults in personal care. Sam believes the industry can have a positive impact on the lives of young people and how they feel about themselves.
Following the launch of his brand, Sam is the Vice President of The Society of Cosmetic Scientists (SCS), Chaired the SCS 'Scrub Up On Science' schools education committee and is the founder of the influential CIN (Cosmetic Information Network).
Being a stay-at-home dad, I went to buy my kids their first teenage personal care products. Having seen the rows of stereotypical pink packaging on products aimed at my daughter and steel grey, 'macho' stuff intended for my son, I left determined to do something about it.
I wanted to create a unisex personal care brand that didn't tell teenagers who they should be or how they should behave. As the formulations were generally overlooked, I needed to be able to understand the chemistry behind the products to combat this.
So, at the age of 39, I went back to school to study cosmetic science. If there was one stereotype I could 'smash' in STEM, it would be that choosing a career in science doesn't have to be done at school or university. You can pursue a science career at any point in life!
I enrolled in a two-year course, (Dip SCS – Diploma in cosmetic science). I loved learning, I love science, something I missed at school really as I thought I wasn't clever enough.
Fast forward to today, I'm an owner of my own unisex cosmetics brand. Day to day, I work on everything involved from stock levels to cosmetic legislation, keeping up to date with advances in cosmetic science – and everything in-between!
My favourite part of my job is meeting new people every day. The cosmetics industry contains an enormous number of diverse professions to be able to create, manufacture, safety assess and distribute products worldwide. It's a fascinating, fun and collaborative industry.
Being in a diverse team is hugely important to me. Innovative thinking, flexibility and bringing in experience from different backgrounds have a vital influence on a team's decision-making processes and effectiveness. Working in a team is vital for innovation as it's motivational! Once you said you'll do something in front of others, you tend to get on and do it (instead of procrastinating!).
—
Click here to go back to view more scientists who are Smashing Stereotypes.
The information featured in this profile was last updated in March 2021.
The Smashing Stereotypes campaign is supported by 3M.