Grant applications for British Science Week 2021 are now closed.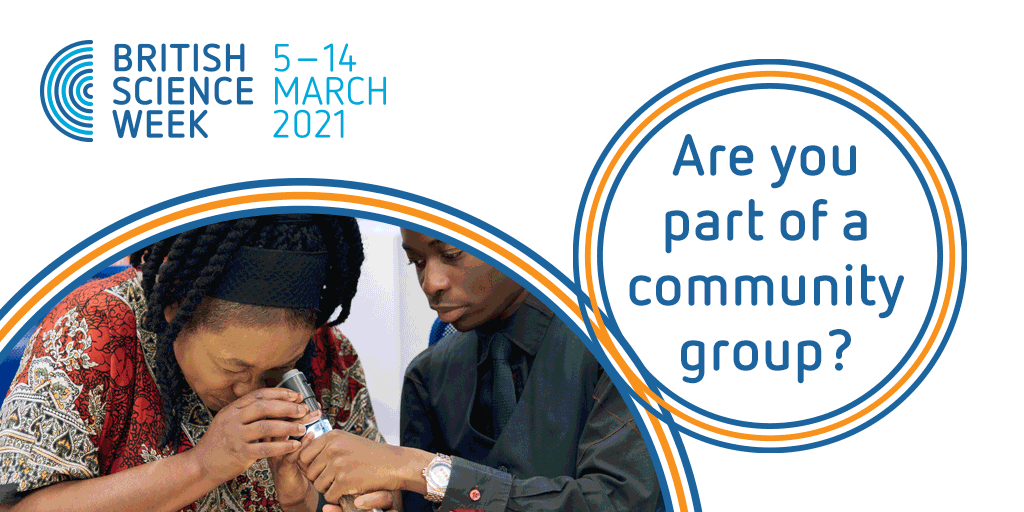 The mission of the British Science Week Community Grant Scheme is to expand the audiences that engage with science and self-identify as having an interest in science by empowering and supporting community groups to run their own science activities during British Science Week (5-14 March 2021).
The scheme offers £500-£2,000 grants for community groups that work directly with audiences who are traditionally under-represented and currently not engaged in science activity.
Our definition of groups that are underrepresented in science includes:
people from ethnic minorities
people with low socio-economic status, including people disadvantaged in terms of education and income
people with a physical or mental condition or impairment
people living in a remote and rural location, defined as settlements of less than 10,000 people
girls and women.
Community grants cannot be used for events or activities with school groups unless they are a special education needs (SEN) school. If you represent a school and meet the eligibility criteria, please apply for our Kick Start Grants instead.
For additional information, you can read our 2021 Community Grant Guidelines.
The deadline for applications was 5pm on Monday, 9 November 2020.
On the application form you will be asked to provide the following information:
a brief description of your organisation, including the audiences/users you work with (200 words maximum)
a general description of the event (300 words maximum);
a description of your event objectives, including the audiences your event will target, how you are meeting their needs and how you will ensure their engagement (300 words maximum);
a brief contingency plan if your plans are affected by health and safety restrictions or a temporary area lockdown;
a rough budget outline (ideally in bullet points) of costs associated with the event and how the grant money will be used; and
details of the bank account into which the grant will be paid at the time of applying for the grant, including the account name, number and sort code.
The most common cause for applications to be rejected is that there was not enough information about the event audiences and how the applicant was planning to ensure their engagement. We prioritise applications for which we are confident that one or more of our target groups will be engaged.
Applications for 2021 are now closed.
Looking for inspiration?
This grant scheme aims to recognise the expertise of community leaders in working with their local audiences, so we are keen to hear what activities you think would work best for engaging your audiences with science – after all, you know your audiences best.
However, if you're stuck for inspiration, you can read our case studies, where community grant recipients discuss their experiences and the impact of the grant on themselves, their audiences and their organisations.
If you're looking for activity ideas, check out the community group activity packs created by the British Science Association, designed especially for community groups and families.
If you have any questions, please contact the British Science Association: [email protected]
For more information about the work the British Science Association does to support and engage with community groups, please visit our Community Engagement page or follow BSA Communities on Twitter.